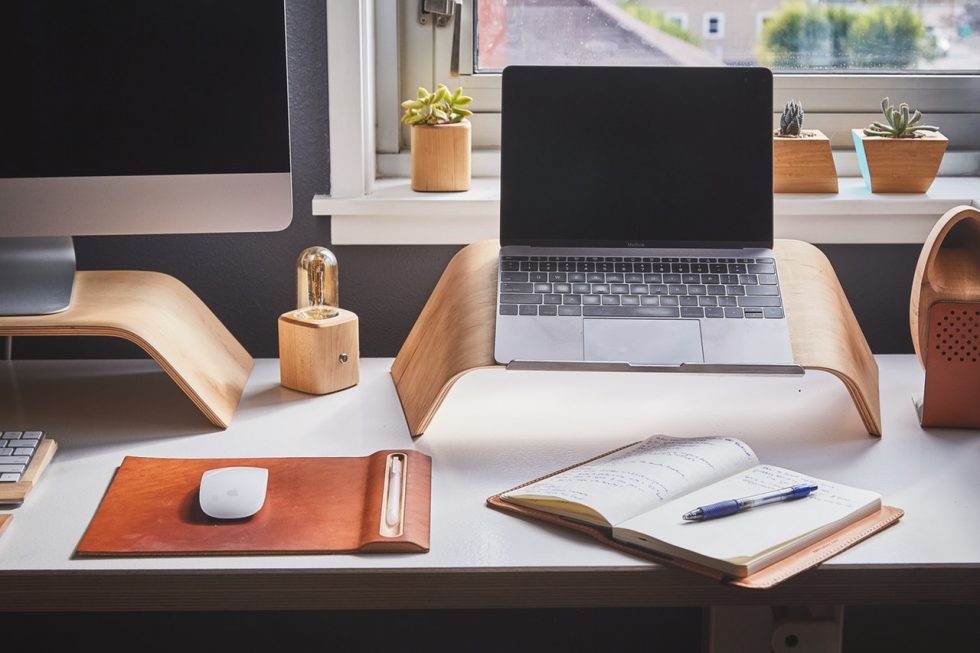 Maintain a clutter free desk in 8 easy steps
Take a glance at your desk. How is it looking today?
Is it a calm and focused place that invites you to sit down and crack out some of your best work, or does it resemble a whirlwind of scattered papers and coffee cup stains?
A cluttered work space is not conducive for a productive day. With piles of paper and stuff around our ears, we waste time looking for things and create ourselves an uncomfortable and stressful environment in which to work.
Working from home definitely has its perks and the biggest one has to be that you can create your very own home office. However, you may find it becomes even harder to keep a tidy desk at home if your space to work is smaller than a typical office desk.
So, wherever you park your laptop on a regular basis, let's take a look at some ways to create a clutter free desk that will ensure you have a more productive time at work.
8 easy ways to maintain a clutter free desk 
Prioritise what gets desk space
Only have the items you need for a particular piece of work on your desk at one time. If you have multiple clients, try removing paperwork/notepads/tools etc from your desk that don't relate to the work you are currently doing.
Out of sight does not need to be out of mind
If you're concerned that storing things in drawers or putting things away means you will forget about what you need to do, use your to-do list. Either keep your written to-do list up to date with your daily tasks or use an online productivity tool, such as Asana or Trello, to organise your workload.
Out of sight does not need to be out of mind if you tidy things away with purpose.
Read: organise your to-do list once and for all by using the 4D Method. 
Review your stationery
Store pens and other stationery items neatly in an upright container to save space on your desk. Go through your stationery regularly and remove dried out/broken and duplicated items.
Go paper free!
Do you need those papers? As well as not helping the environment, printed paper just ends up being clutter. Recycle unnecessary paperwork and try using electronic storage options such as Google Drive or Dropbox to file your paperwork.

But if you really want to keep those papers…
Use a noticeboard for all those notes and inspiring snippets, which means your desk surface is not littered with them. Visual prompts can be very stimulating, so if you fancy creating a mood board, it's a good way to group together your favourite pieces. Just watch out that it doesn't become a dumping ground of faded sticky notes…
Throw out rubbish
Most of us have a bin lurking under our desks that is brimming with rubbish or recycling. Instead of waiting until the smell of stale coffee cups and old food becomes too much, create a regular habit of emptying the bin at the same day/time every week.
Make keeping a tidy desk a habit
Clear your desk every evening. Nothing is more motivating that returning to work the next day with a clear environment in which to get cracking!
But, find what works for you; if sitting down to clear your desk in the morning sets you in the right frame of mind for the day then go for it.
The main thing is to try to build a regular routine of reviewing your desk and eliminating clutter before it starts to build. Remember the motto: 'a place for everything and everything in its place'.
Treat surfaces to a once over
Make the most of a clear surface and show your desk a little love with a wipe over with a cleaning product. Don't forget to clean your keyboard, mouse and desk phone if you have one as they harbour many germs that we'd rather not think about!

What are your top tips on how to maintain a clutter free desk? Do you find a cluttered desk affects your productivity, or do you embrace the mess and just get on with it?